Hooray Pink
Thursday June 23, is National Pink Day. I didn't make this up, ladies – it's a real National Day! So Hooray Pink, you are the only colour with a National day of its own! You know I love pink, therefore I am celebrating too by wearing my pink bra and undies! Oh yes, and a pink top. And pink socks.  I almost forgot to mention my pink shoes!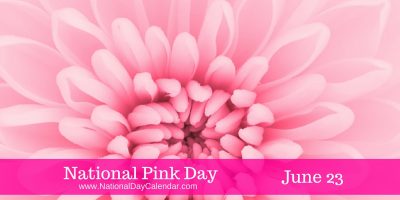 Pink  is a pale red color which got its name from a flower of same name and

 was first used as a color name in the late 17th century. 
According to surveys in both the
United States
and
Europe 
with results indicating that the color pink combined with white or pale blue is most commonly associated with femininity, sensitivity, tenderness, childhood and the romantic.  Pink, when combined with violet or black is associated with eroticism and seduction.
Pink is more than just a pretty colour!
Dating back to the 14th century, "to pink" (the verb) means "to decorate with a perforated or punched pattern." (as in pinking shears!)
Pink ribbons or decorations were worn by young boys in 19th century

England

.  The men in

England 

wore red uniforms and since boys were considered small men,

boys wore pink

. Yes, that's right, most little boys wore pink!
Pink became much bolder, brighter and more assertive in the 20th century and 1931, the color "Shocking Pink" was introduced. Hot pink is a colour I associate with the late 1960s and 70s.
Watch your language!
Here's how PINK has entered our language:
In the pink – To be in top form, in good health, in good condition.
Tickled pink – means extremely pleased.
To see pink elephants – To hallucinate from alcoholism.
Pink slip – To be given a pink slip means to be fired or dismissed from a job.
Pink-collar worker – Persons working in jobs conventionally regarded as  "women's work."
Pink Money –   an economic term which refers to the spending power of the LGBT community.

How about wearing your favourite PINK bra, not matter what the shade on national Pink Day June 23? I know I will be! Hooray Pink!
https://www.braandcorsetsupplies.com/wp-content/uploads/2016/06/National-Pink-Day-June-23-1.jpg
200
400
Beverly Johnson
https://braandcorsetsupplies.com/wp-content/uploads/2017/01/BMS-Website-Logo.png
Beverly Johnson
2016-06-22 10:05:00
2016-07-28 13:35:50
Hooray Pink – National Pink day