Do you turn a lot of tubes? Do you make a lot of tiny spaghetti straps, straps for swimwear or bras? If so, you know the pain that comes from turning fabric tubes right side out. When our sales rep showed us this amazing gadget, I immediately named it "the stick and the straw". Its real name is much less glamorous (in my opinion). It is the Turn-it-all. But the stick and the straw sounded better to me, so the name stuck. No matter what you call it, it works like a charm. You will never fear tube-turning again, I promise.
There are three sizes of "straws" in the turn-it-all package, from the tiniest 1/8″ size, to the largest 1/2″ size. Each has a corresponding "stick" that fits inside. The rules for using the Stick and the Straw are easy – you must be able to fit the straw inside your tube of fabric. If you cannot, then you have to use a smaller size straw.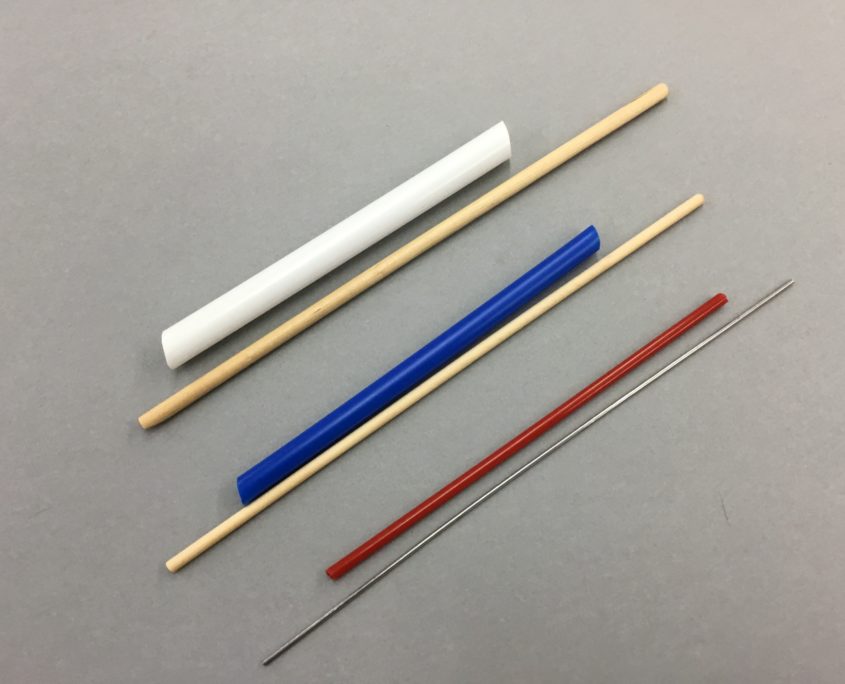 I recently had occasion to make a narrow turned tube from sheer cup lining. Since the sheer cup lining is, well…sheer….it proved to be a very powerful teaching moment for my staff. They could see everything going on inside to fully understand how this simple tool works.
Sew the fabric tube as you would, with the width twice as much as you need for a finished width, plus seam allowance of 1/4″. On a very narrow tube such as this, I use 1/8″ seam allowances. There is one important thing – you must sew one end of the fabric tube closed.
Then insert the Straw into the open end of the fabric tube. My tube was a little wider than 1/4″ so I had to use the smallest size.
Now gently push the stick ( the smallest "stick" is actually a thin metal rod) into the closed end. Your goal is to get the sewn end inside the straw. It is not difficult, but don't get too heavy-handed with the stick, as it could poke through the fabric.
Continue pushing on the stick and the fabric tube will magically go inside the straw and out the other end. Don't grip or hold the fabric tube – just let it feed into the straw. When it comes out, it's done! You can trim off the sewn end if you don't need it. It literally takes no time at all.
So how easy was the Stick and the Straw? As I said before, it's commercial name is Turn-it-all, and you can find it in our notions sections here.
Your Fairy Bra Mother.
https://www.braandcorsetsupplies.com/wp-content/uploads/2018/01/IMG_7465-scaled.jpg
1920
2560
Beverly Johnson
https://braandcorsetsupplies.com/wp-content/uploads/2017/01/BMS-Website-Logo.png
Beverly Johnson
2018-01-14 07:00:22
2018-01-08 11:47:47
The Stick and the Straw