Gothic Arch
One of the most recognizable shapes in ancient architecture is a Gothic Arch.  It symbolizes strength, and serves as support for the structure above it. All the early architects understood that the Gothic Arch was an integral part of the support system. However, to recognize a Gothic Arch in a bra may not be so easy.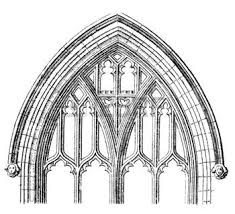 A Gothic Arch is an easy to sew addition to your bra that will make a difference to the engineering of the front. A Gothic Arch is found on a full band bra, most often on a fabric band, and has a characteristic up sweep  and a flat section at the centre front of the bra. On the inside there are two pieces of elastic coming from each side, either crossing each other at the front or mitered to go over the arch.
Here's a quiz to see if you recognize a Gothic Arch . Which of these bras has what we are looking for?
The purple lace on black bra at the top is a partial band, so that's not it. The pink and white lace bra has a lace band, and although it curves up in the centre, it is not a Gothic arch either. However the two bras at the bottom have Gothic arches. They both sweep upward quite sharply but they lie flat in the centre. Here's what a Gothic Arch looks like on the inside; this one has the two elastics crossed at the centre. So, how did you do on that quiz?
The Top Ten reasons for using a Gothic Arch
the elastics sew on the bottom edge much more easily than on a standard curved edge
it is very comfortable to wear
it avoids the high tummy area so it doesn't bind in this area
it can be drafted from any full band pattern, even if you have already cut it out
it makes the elastic lie perfectly flat
you can practice your precision sewing skills
when you sew it right, it makes you feel very accomplished
it uses smaller lengths of elastic so you can avoid waste
it strengthens the bridge and keeps the breasts together at the bottom
it has a very smart look about it!
Now that you recognize a Gothic Arch, in next weekend's post, we'll look at how to draft and sew one. Like I said above, even if you have your full band bra already cut out, you can still do a Gothic Arch.
If you can't wait until then, I teach the technique in my Craftsy class Sewing Bras: Designer Techniques. if you click the link, you'll get the class for the lowest price that Craftsy offers.
https://www.braandcorsetsupplies.com/wp-content/uploads/2016/07/Gothic-arch-feature.jpg
214
235
Beverly Johnson
https://braandcorsetsupplies.com/wp-content/uploads/2017/01/BMS-Website-Logo.png
Beverly Johnson
2016-07-31 06:00:07
2016-07-28 12:09:35
Recognize a Gothic Arch